Publications
We produce a range of publications which you can find out more about here.
Archaeological Market Survey
The Archaeological Market Survey reports are produced by Landward Research on behalf of Historic England, FAME and CIfA. Providing a unique analysis of the archaeological sector as part of the overall UK economy, the reports are based on survey responses from FAME members and CIfA Registered Organisations. Download the reports here:
FAME Guide to the Procurement of Archaeological Services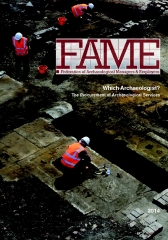 Written with the archaeological client in mind, the purpose of the document is to foster an intelligent approach to the purchase of archaeological services as part of the development process. The guidance is intended to establish parity with the approach that clients would employ to purchase other professional input for their design team, and for implementation of the designed scheme.
This should be useful to both clients and archaeologists looking to establish a shared approach to procurement.
Sections cover:
Archaeology and development
Risk awareness in the procurement of archaeological services
Best practice approach
A checklist for assessing tenders
The guide can be downloaded here– FAME procurement leaflet.
A survey of archaeological archives held by archaeological practices in England, Scotland and Wales
The Federation of Archaeological Managers and Employers (FAME) carried out a survey in 2012 of undeposited archaeological archives in England, Scotland and Wales. The results suggest that the total number of undeposited completed archives in cost around £300,000 to store annually.
The principal reasons given for museums not accepting archaeological archives were that stores were full, no store existed for the area, no resources were available to accession them, or stores were temporarily closed. There was general consensus that the problem of undeposited completed archives was critical and worsening, and that doing nothing to address it was not an option.
Three interlinked solutions were most widely favoured.
County or multi-county resource centres and archives stores should be established, to enhance capacity, concentrate expertise, provide greater consistency, and offer improved access to archives in regular use.
A much more robust and rigorous selection process is required, based on post excavation assessment by recognised specialists, to ensure that the material selected for retention is that holding the greatest potential significance for further study, educational or community use.
Greater use should be made of digital archiving, which should be undertaken in accordance with a set of agreed national standards.
The report can be downloaded here – FAME Report on Archaeological Archives.
More publications can be found in the members area library.